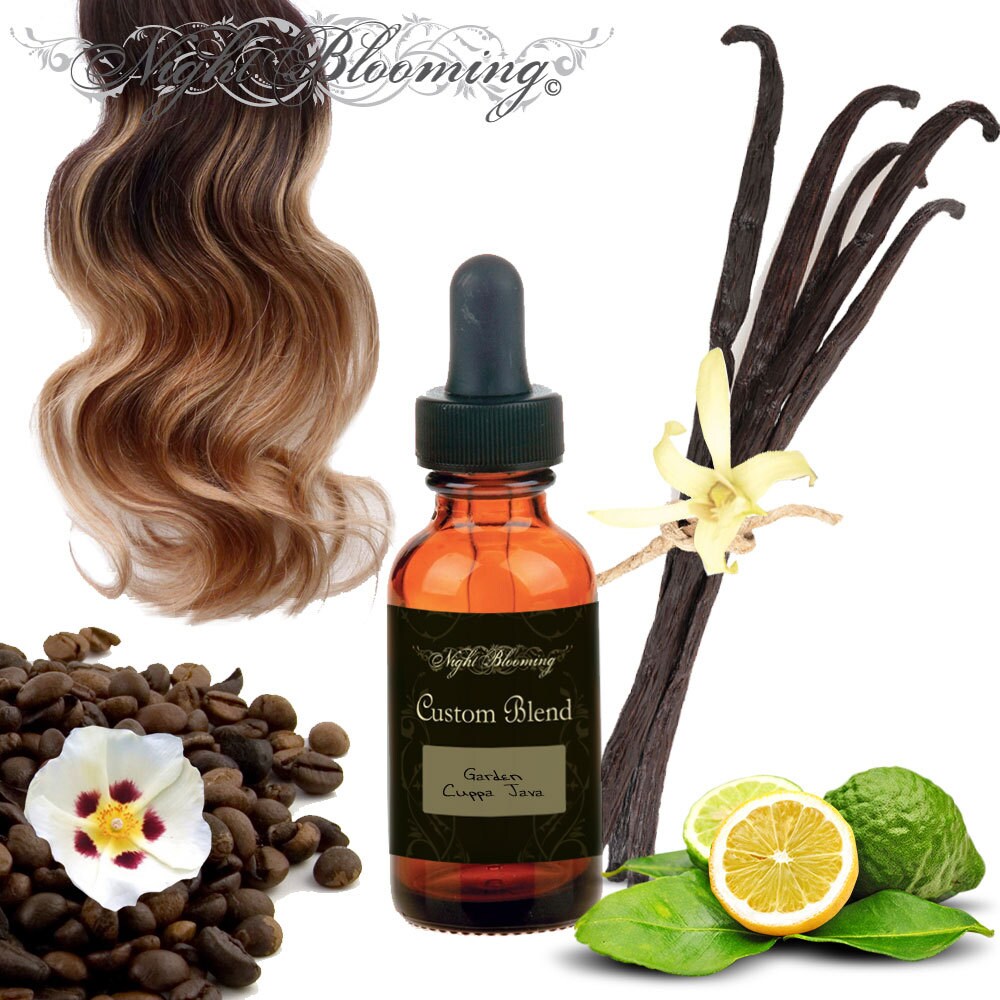 We've found that while people are interested in a custom blend for their hair, not everyone feels confident enough to pick the oils on their own. To that end, we are creating a suggested custom blend each month. You'll be able to order past blends at any time, or add or subtract oils as you prefer! These are just suggestions of ways to blend some of our many oils into our 1/2 ounce or 4 ounce custom oil blends.
You can see all of the past featured oil blends of the month in our blog:
http://nightbloominggarden.blogspot.com/search/label/Oil%20Blend%20of%20the%20Month
Want each new oil delivered right to your door every month? Check out our Signature Oil Subscription Program!
https://www.youtube.com/watch?v=O73KMHI4bgg
https://www.etsy.com/listing/252463334
****************
This blend captures the scent of vanilla coffee in an evening garden. To purchase the 4oz version, use this listing
:
https://www.etsy.com/listing/250752751
Base Oil: Sweet Almond Oil
Secondary Oils: Jojoba Oil, Shea Nut Oil
Essential Oils: Coffee, Labdanum Absolute, Bergamot, Vanilla (CO2 extract)
Aroma: Drinking a vanilla-flavored cuppa coffee in the garden.
Application: 1-2 drops of oil in the hands and massage into damp hair.
Detailed Ingredients:
• Almond Oil- This pale golden oil is extracted from almond kernels. Apart from vitamin E it also contains vitamin D and other nutritious components including essential minerals such as magnesium, calcium and rich, natural fats. This oil is easily absorbed and will not clog pores, making it ideal for the scalp and face as well as hair.
• Jojoba Oil- Jojoba Oil is found to be an ideal moisturizer and conditioner which is derived from a natural plant. Jojoba oil is produced from a desert plant called Simmondsia Chinensis whose oil is highly regarded as an effective conditioner, moisturizer, cleanser and softener for the skin and hair. This deep golden oil is considered to be the closest to the sebum naturally produced by the body, making it a customer favorite.
• Shea Nut Oil- A beautiful oil with a deep golden color which is made by cold-pressing the nut seed of the Shea (Karite) Tree. Shea oil is a byproduct of Shea butter production where the pressing of the seeds produces a fractionated oil. This oil leaves a smooth and healthy feel to the skin and hair buy helping rough and upraised cells smooth back into place. It offers benefits for numerous skin problems including dermatitis, eczema, burns, cutaneous dryness and other irritations. Highly recommended as a protective agent against harsh weather conditions where a mild barrier against the elements is desired.
• Coffee Essential Oil- This stimulating essential oil not only brings a rich, pleasing aroma, but also can help with scalp acne and psoriasis. It has uplifting and antioxidant properties.
• Vanilla Burbon CO2 Extract- Vanilla is not produced as pure essential oil. It is well advised to question the authenticity of Vanilla labeled pure essential oil. This soothing scent is perfect for relaxing and meditation.
• Labdanum Absolute- A resin from the Rock Rose, Labdanum Absolute provides a remarkably rich, tenacious, sweet, warm, balsamic amber-like arom.
• Bergamot Essential Oil- Certain components of the essential oil of Bergamot are antibiotic and disinfectant in nature. They inhibit the growth of germs, virus and fungi. They also effectively prohibit infections, including those of the skin. It has a refreshing and natural scent and is also a tonic, meaning it tones up skin and muscles