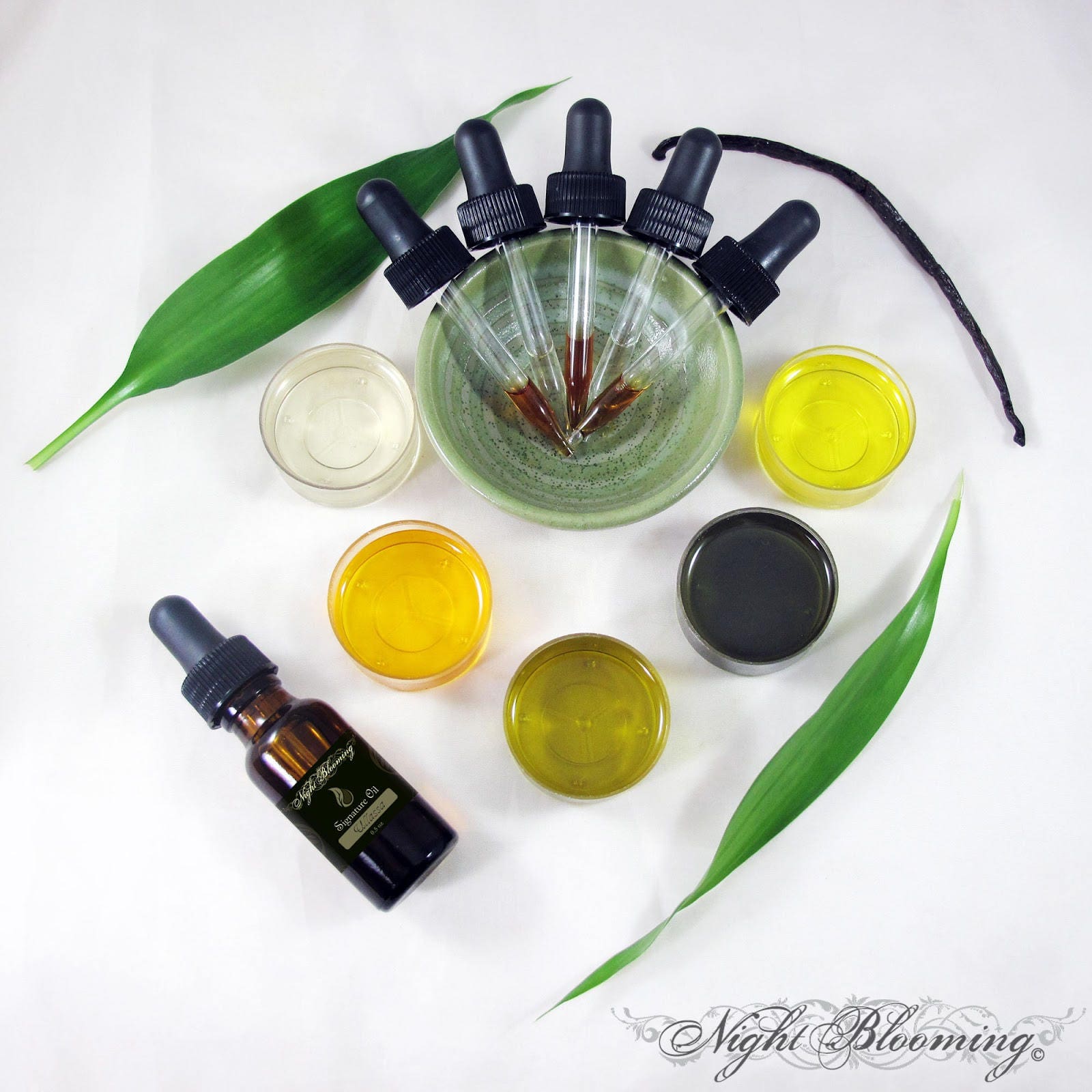 One of the great things I pride myself on is never taking away a product that a customer loves; even if it isn't a stocked item, it's available as a custom order.
When I first started doing the Signature Oil Blend of the Month it was pretty simple to have one current blend (that I'd mix up a larger amount of and use to fill orders) and then a few
Previous Signature Oil Blends of the Month
so customers could always go back and get their favorites.
The core idea is still good, the details need a bit of work. Two years in, there's now a vast catalog of Previous Signature Oil Blends of the Month for customers to pick from, and it's only going to keep growing.
Better Organized Listings
You'll find that on
Etsy
, and on the soon-to-be
nightbloominggarden.com
, that rather than being organized by date with a link to their blog post, each oil is now grouped by the type of scent, and all the ingredients are right there. No needing to go to an old blog post to browse each one. There are functional limitations on Etsy that impose limits on my desire for organization, but here's a preview of how it will look on the new site. Each section opens up to show all the oils in that scent category, with its picture, a link to its blog post, and all the ingredients. Each ingredient is detailed out for its specific benefits in the Ingredients Index. This is also a lot more sustainable for the ever-growing collection of oils.
The Way Things Are
Right now, this is how oil blends work: Each month I mix up several ounces of the Signature Oil Blend when it debuts. This makes filling bottles super-fast because everything is pre-blended. There's far, far too many Signature Oils to keep pre-blended in bulk, I'd risk the oils going rancid before I happened to use up a large amount. That's why when an order comes in for a Previous Signature Oil Blend of the Month, I mix up each tiny bottle as a one-off. This way I'm turning over all the oils in my inventory faster, meaning the freshest possible product for my customers. But that time adds up.
The Way Things Will Be After October 31st
Nobody likes surprise price jumps just before a saved-up-for purchase, so nothing will change for the next month.
Price adjustment- The difference between a night where 10 orders takes two hours and four hours to pack is literally dependent on how many 1/2 ounce oil bottles I'm blending up that night. The time it takes to make the current month's oil and all the ones after is different, so the prices will be, too. I'll be raising the cost on the 1/2 ounce Previous Signature Oil Blends of the month by $1.50. The cost of the 4oz Signature Oil Blends will stay the same. What this means is that if you have a long-time favorite, it's still cost-effective to pick up the 4 ounce version. If you're wanting to try new oils, you're encouraged to pick them up as they come out, before the price goes up (which happens either at the end of that month, or when the last of the pre-blended oil is used up after month's end), or save even more by enrolling in our Signature Oil Subscription program. tl:dr- the cost isn't the same because the time involved isn't the same.
Bringing back old favorites- As a way to offset a little of this, I'll be bringing back old seasonal favorites at the $7 price. For example, right now in the store you can pick up Samhain Spell (Oct 2015) and Pumpkin Chai (Oct 2016) for $7. After these are out of season / are no longer featured, they'll return to $8.50 and be found only in the Previous Signature Oil Blends of the Month listing again.
I hope everyone understands and is excited about the new site!