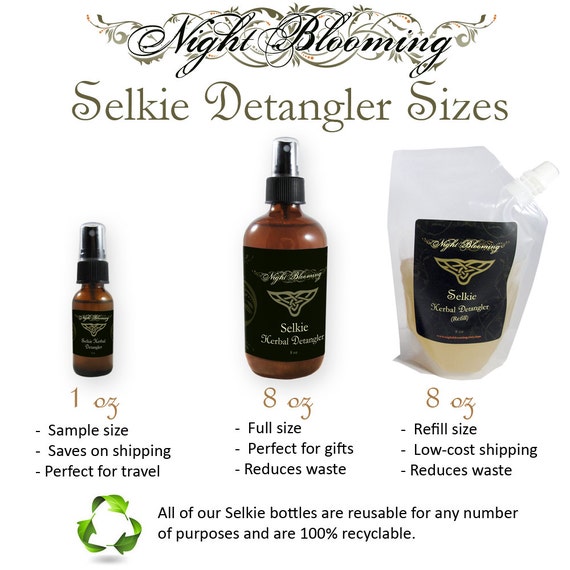 The bottles are made of amber glass, making it durable as well as blocking UV rays that would harm the herbal infusion, oils, and essential oils within.
1 oz Sample Bottle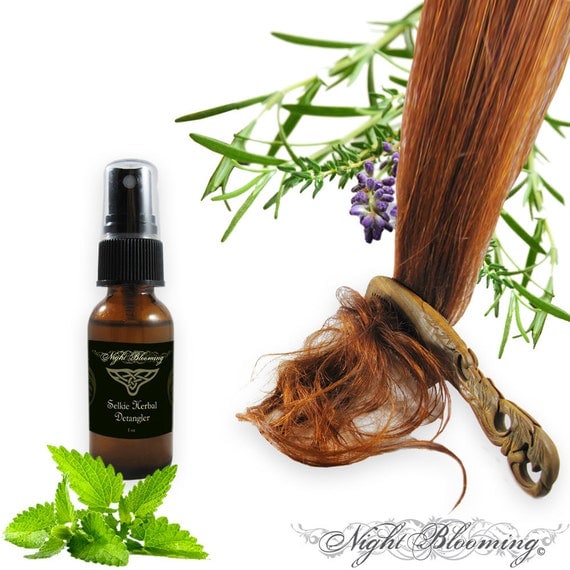 For purchase here, this is a perfect sample for trying out Selkie. It's also a handy little bottle to tuck in your purse, gym bag, travel suitcase, or diaper bag! Refill it over and over with our awesome soft refill pouch.
8 oz Full-Sized Bottle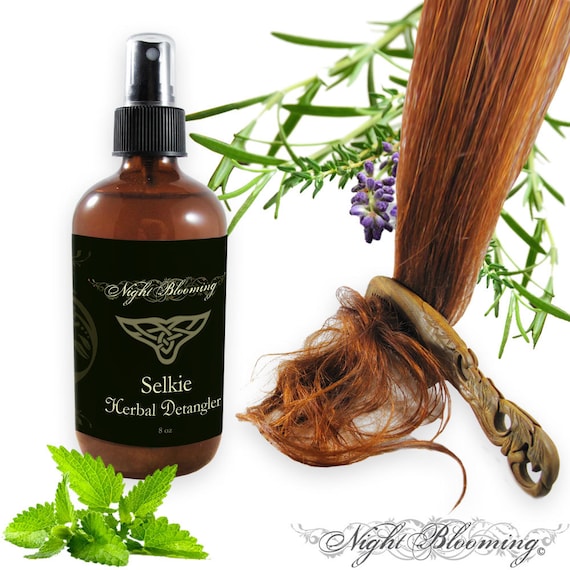 For purchase here, this is a great size to keep in the bathroom. It's big enough to hold quite a lot of Selkie, but still small enough to fit comfortably in your hand. Refill it over and over with our awesome soft refill pouch.
8 oz Soft Refill Pouch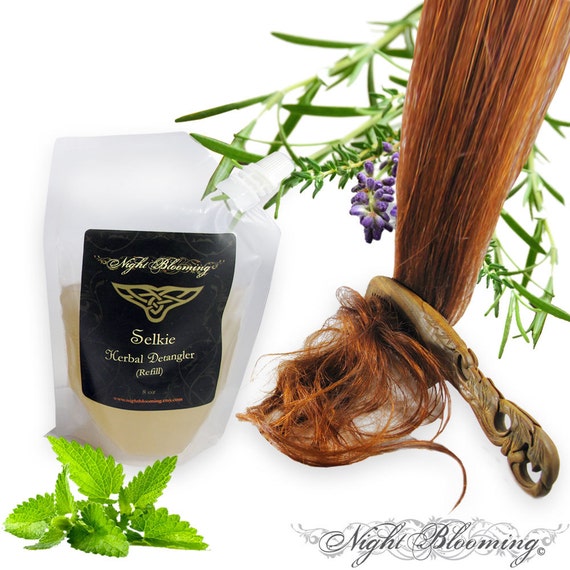 For purchase here, this is a great way to make the most out of your amber glass Selkie bottles. It also weighs nearly half of what the 8 oz glass bottle does, so you save on shipping costs too. Have your own mister bottle? Awesome, you can load it right up with this refill. If you want a Selkie label for your own bottle, just leave a note in the Message to Seller in checkout and we'll include one for free!
Directions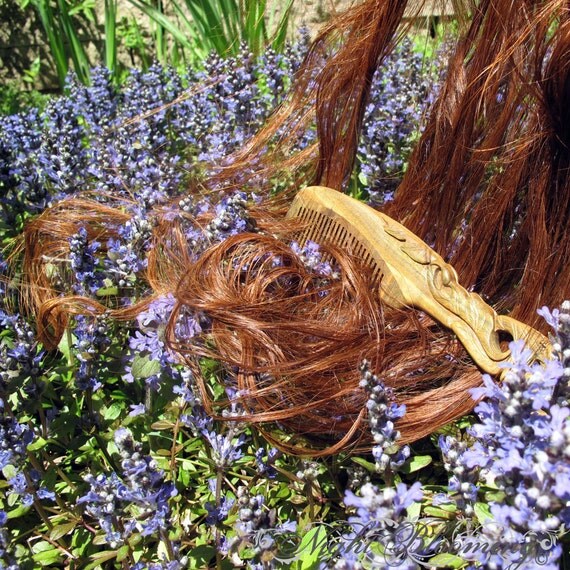 Yes, that's actually my hair in the sun after a good session with Selkie! You'll love the softness, shine, and of course, lack of tangles! Also, I discovered how hard is is to take a picture of your own hair while kneeling in a bunch of flowers.

Shake well. Mist Selkie onto either damp or dry hair. Gently detangle first with the fingers, then with a wide-toothed comb, starting at the ends of the hair.
Ingredients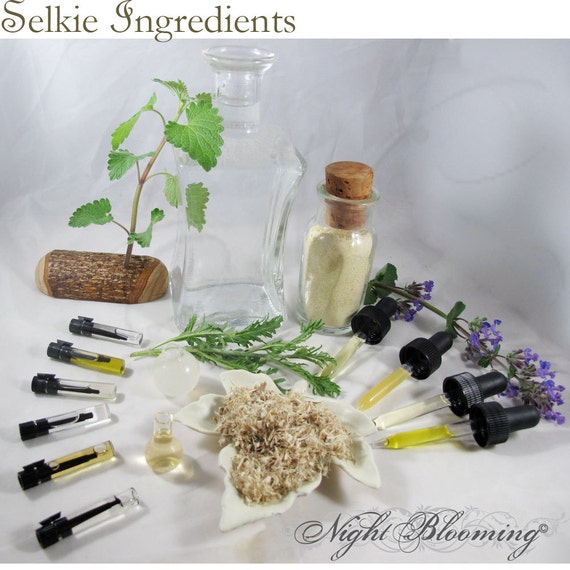 Every ingredient in Selkie is vegan, hand-blended, and certified organic. So what's in it?

Distilled water, Marshmallow root, slippery elm & fenugreek seed herbal infusion, Aloe vera gel, Apple cider vinegar, Argan Oil, Borage Oil, Camelina Oil, Vitamin E Oil, and the essential oils of Catnip, Cedarwood, Lavender, Lime, Petitgrain, and Sage
Distilled water– Ensures that Selkie has no mineral buildup and allows for a pH neutral start.
Marshmallow root, slippery elm & fenugreek seed herbal infusion– These three ingredients give Selkie its slip by virtue of their mucilaginous compounds. They also naturally soften hair, provide natural plant protein, add shine, and sooth an itchy or dry scalp.
Aloe vera gel– While well-known for its benefits to skin, this third mucilaginous ingredient provides deep moisturizing effects to the hair and scalp as well. In addition it helps restore pH levels and has both emollient and moisturizing properties, meaning that it smooths the cuticle and attracts and seals in moisture.
Apple cider vinegar– The mildly acidic nature of this helps balance pH of hair and also helps to remove buildup. ACV encourages the cuticle of the hair to lay closed, making hair shine and tangle less.
Argan Oil– Sometimes called "Miracle Oil," argan oil is extracted from kernels of Argan fruit by crushing. It is swiftly taking the place of other natural oils for hair protection and treatment. Argan oil contains tocopherols (vitamin E), phenols, carotenes, squalene, and fatty acids, making it both light and great for brittle hair.
Borage Oil– Sometimes known as starflower, borage grows wildly in many parts of the world. Borage oil is extracted from the seeds of the plant, and its essential ingredient has been found to be gamma linolenic acid, commonly known as GLA, which is an essential fatty acid that provides a replenishing effect on the skin and hair, and is able to restore moisture and elasticity where it had previously been lost.
Camelina Oil– Known as the "gold of pleasure" to Europeans not long ago. Rich in natural antioxidants, Omega-3 fatty acids, tocopherols, and high in vitamin E content, Camelina oil is truly under appreciated.
Vitamin E Oil– Our natural Vitamin E oil is obtained by vacuum distillation of vegetable fats derived from non-GMO soy sources. It prevents rancidity and it acts as an anti-oxidant. This particular Vitamin E oil has been verified and tested GMO-free from crop to finished material.
Catnip Essential Oil– A stimulant, catnip can increase blood flow to the scalp, encouraging growth. It's astringent properties help tighten muscles and skin, helping to reduce shedding in some cases. Catnip is also reputed to assist in reducing split ends.
Cedarwood Essential Oil– Excellent for both hair and skin care. It balances oily skin, soothes and helps to heal skin rashes, and reduces oil in hair and skin.
Lavender Essential Oil– Enhances hair growth by stimulating the scalp. The name "lavender" is derived from the Latin lavare, meaning, "to wash" and was known as one of the seven polyvalents (effective against many toxins).
Lime Essential Oil– A bright scent, lime is antiviral, astringent, and bactericidal. It is at once a cleansing and moisturizing oil, helping with dandruff and scalp buildup.
Petitgrain Essential Oil– Made from the leaves and twigs of this amazing tree, it is antiseptic, antispasmodic, a natural deodorant, and nervine. Use in a hair oil will leave hair and scalp fragrant (petitgrain has woody, citrus and floral notes all in one!), while soothing and preventing bacterial and fungal growth.
Sage Essential Oil– A scalp soother and astringent, the herb is of ancient repute, valued as a culinary and medicinal plant – called herba sacra, 'sacred herb', by the Romans.