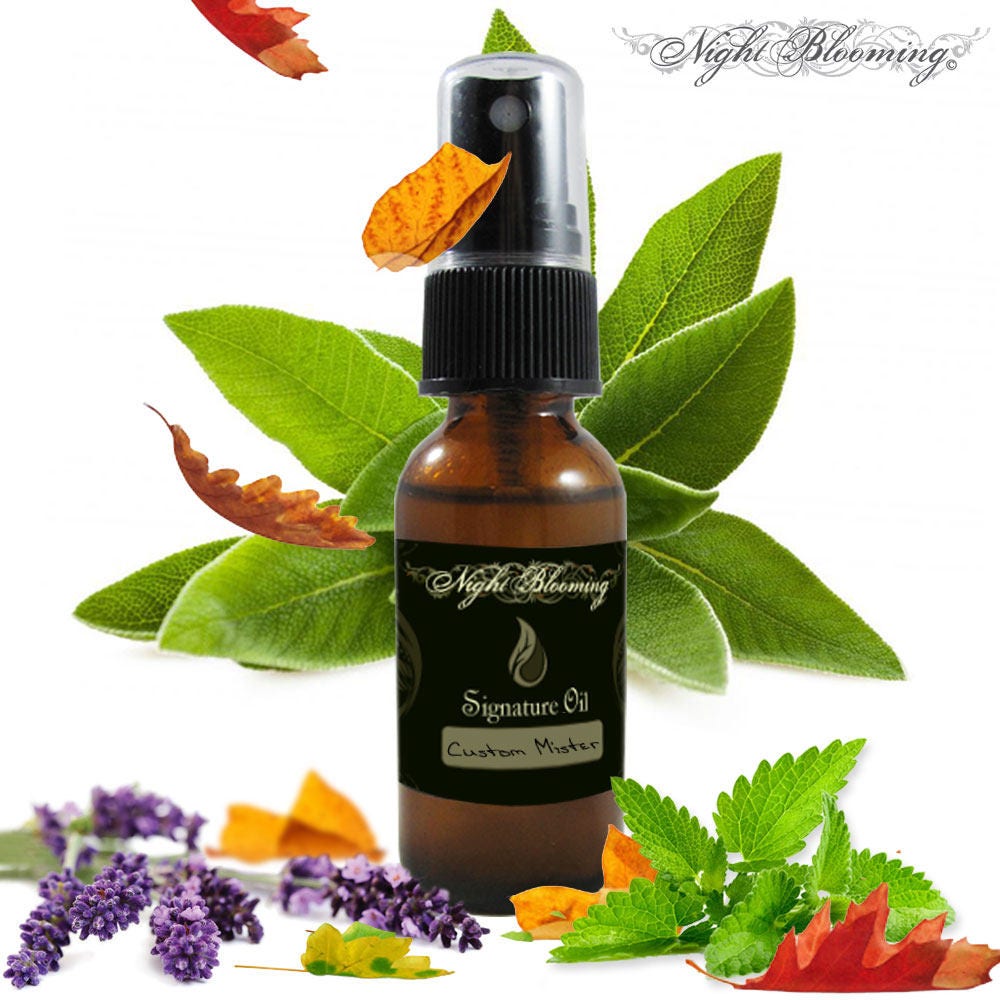 A light, dewy fragrance-filled mister using all-natural ingredients! No fragrance oils, only Essential Oils, Absolutes and C02 Extracts. Either choose from our many Signature Oil Blends, or come up with your own perfect, personalized blend!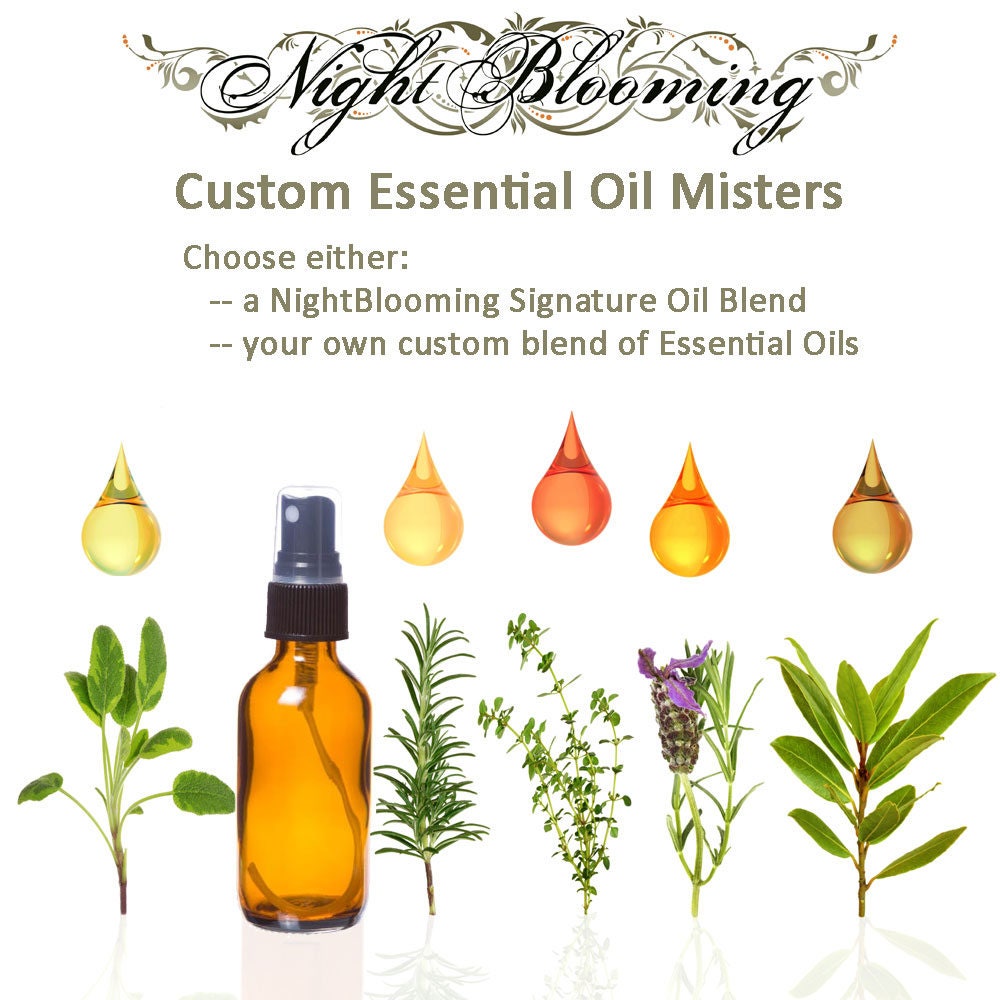 For a custom blend select CUSTOM in the dropdown menu and let me know your choices in the Message to the Seller. You can see all the available essential oils here:
https://www.etsy.com/listing/114100806
The vegetable glycerin helps the aroma last longer, but if you'd like it without, just let me know in the Message to the Seller option at checkout!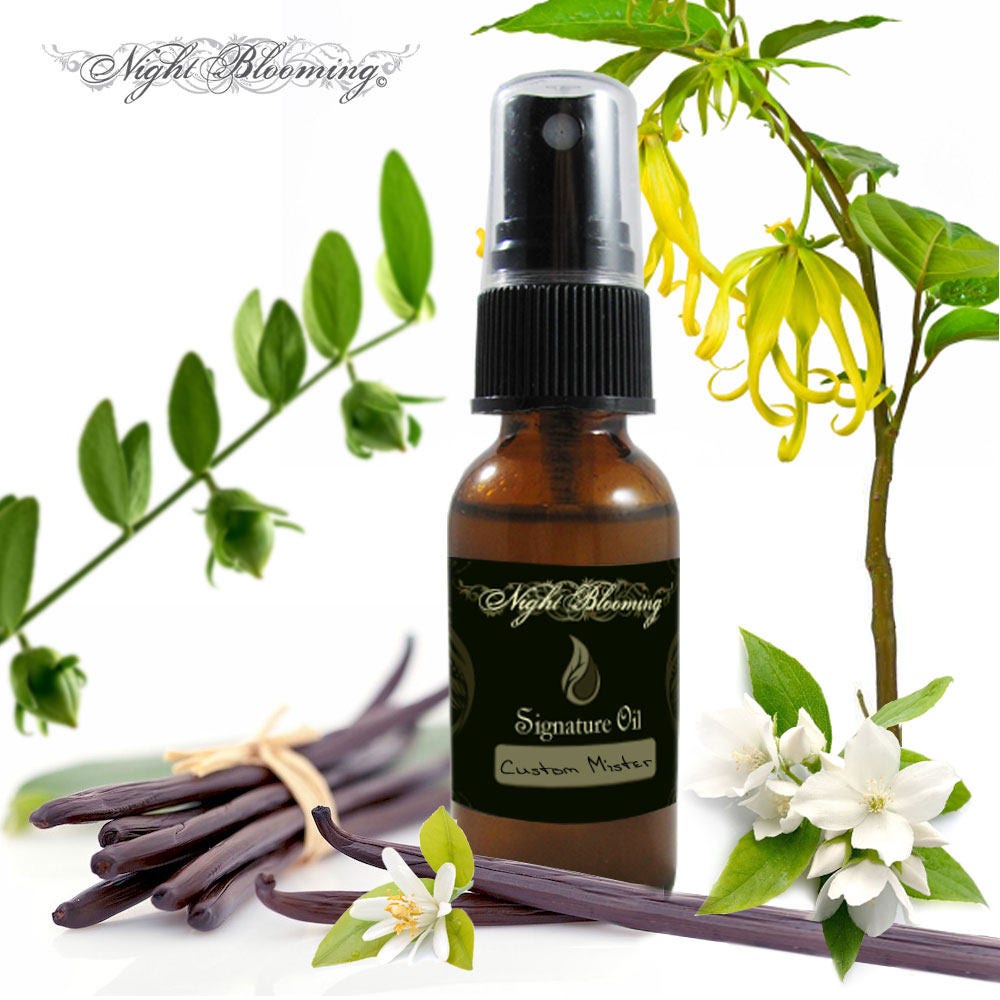 Signature Essential Oil Mister Blends:
•´¸.•*´¨) ¸.•*´¨)
(¸.•´ (Woodland
Hinoki Hair Growth- Aroma: Woodsy and herbal, hint of mint and citrus. Essential Oils: Hinoki, Petitgrain, Catnip, Red Thyme, Lavender, Birch
Drúadan Forest- Aroma: Evergreen forests with bright grasses and fey-touched undergrowth. Essential Oils: Siberian Fir Needle, Melissa officinalis, Siam Wood, Frankincense, Cedarwood, Scotch Pine, Vetiver, Juniper Berry, Lemongrass
Autumn Dewfall- Aroma: Crushed autumn leaves on a cool, dewy morning. Essential Oils: Cypress, Balsam Fir, Sandalwood, Lavender, Bergamot, and Sage
Sacred Forest- Aroma: Sacred incense in an evergreen forest. Essential Oils: Frankincense, Myrrh, Pine, Cedarwood, Ho Wood, Hinoki, Vetiver, Sandalwood
•´¸.•*´¨) ¸.•*´¨)
(¸.•´ (Herbal
Sun Soother- Aroma: A field of summer herbs and flowers with a bright ray of citrus. Essential Oils: German (Blue) Chamomile, Amyris, Ylang-ylang, Clary-Sage, Lavender, Lime, Sandalwood
Evening Star- Aroma: Dusky woods, nighttime herbs, and evening flowers. Essential Oils: Lavender, Valerian, Mugwort, Sweet Marjoram, German (Blue) Chamomile, Frankincense, Clary Sage, Copaiba
Tenderhead Tranquility- Aroma: Tingling and soothing peppermint and eucalyptus with relaxing herbal undertones. Essential Oils: Peppermint, Sweet Marjoram, Lavender, Myrrh, Eucalyptus
Catnip Fields- Aroma: Minty, herbal, and bright. Essential Oils: Catnip
•´¸.•*´¨) ¸.•*´¨)
(¸.•´ (Clean / Clear
Focal Point- Aroma: Clean and clear with a hint of mint and herbal freshness. Essential Oils: Wintergreen, Lavender, Peppermint, Frankincense, Basil, and Rosemary
ôstar, Towards the Rising Sun- Aroma: A dewy, fresh scent, like a sunlit garden after the rain. Essential Oils: Gingergrass, Lavender, Lemongrass, Cedarwood, Ginger
Siren's Song- Aroma: Crisp and cool, like an ocean breeze. Essential Oils: Rosemary, Bergamot, Lavender, and Eycalyptus
Philosopher's Beard- Aroma: Warm rum and clean citrus. Essential Oils: Bay Laurel, Litsea, Clove, Bergamot, Sweet Orange
•´¸.•*´¨) ¸.•*´¨)
(¸.•´ (Warm
Summer's Warmth- Aroma: Warm woods in a summer forest. Essential Oils: Hinoki, Amyris, Sandalwood, Clove
Ullassa- Aroma: Soothing and warm, like a vanilla and herb spa bath. Essential Oils: Jasmine Absolute, Ylang Ylang, Petitgrain, Vetiver and Vanilla Burbon C02 Extract
Woodland Thieves: Aroma: Warm, spiced herbs. Essential Oils: Clove, lemon, cinnamon, eucalyptus, rosemary, bay, frankincense, ravensara
•´¸.•*´¨) ¸.•*´¨)
(¸.•´ (Floral
Lavaralda Desire of Rest- Aroma: Sweet, relaxing, and yet energizing floral. Essential Oils: Jasmine, Lime peel, Sweet orange, cinnamon
Foncé Fleur- Aroma: Nighttime garden: green and darkly floral swirled in evening mist. Essential Oils: Petitgrain, Copaiba, Melissa (Lemon Balm), Neroli, Oakmoss, Mugwort, Gingergrass
Frostfall Flowers- Aroma: Cold flowers and crisp frost. Essential Oils: Jasmine, Rose, Neroli, Vetiver, Frankincense
•´¸.•*´¨) ¸.•*´¨)
(¸.•´ (Green
Eryn Ethuil- Springtime in the Forest of Neldoreth: woody, green, with an edge bordering a sunlit meadow. Essential Oils: Elemi, Muhuhu, Sage, Balsam Fir, Bergamot
Jasmine Green Tea- Aroma: Jasmine green tea swirled with vanilla. Essential Oils: Jasmine Absolute, Vanilla Burbon C02 Extract, Sage Essential Oil, Sweet Marjoram Essential Oil, Elemi Essential Oil
Witch's Garden- Aroma: A sun-dappled cottage garden at the edge of a large, magical forest. Essential Oils: Oakmoss, Basil, Lemongrass, Peppermint, Mugwort, Lavender, Rosemary and Patchouli
Medusa's Snake Oil- Aroma: Cleansing green grasses flowers with bright notes of citrus. Essential Oils: Cypress Essential Oil, Bergamot Essential Oil, Lavender Essential Oil, Lime Essential Oil, Ginger Essential Oil, Lemongrass Essential Oil
•´¸.•*´¨) ¸.•*´¨)
(¸.•´ (Delicious
Hot Cocoa- Aroma: Hot cocoa with marshmallows, stirred with a candy cane. Essential Oils: Cocoa, Peppermint, Vanilla Bourbon C02 extract, Sweet Orange
Pumpkin Chai- Aroma: Vanilla, chai spices and a smidge of coffee. Essential Oils: Cinnamon, Cardamom, Nutmeg, Ginger, Anise, Clove, Coffee, Sweet Orange, Vanilla (CO2 extract)
Garden Java Cuppa- Aroma: Drinking a vanilla-flavored cuppa coffee in the garden. Essential Oils: Coffee, Labdanum Absolute, Bergamot, Vanilla (CO2 extract)
•´¸.•*´¨) ¸.•*´¨)
(¸.•´ (Mystical / Incense
Raven Queen's Chosen- Aroma: A deep, heady incense with a crush of poppy flowers. Essential
Oils: Dragon's blood resin, Myrrh, Sandalwood, Ravensara , Wild Orange, Jasmine, Neroli, Patchouli
Dragon's Blood- Aroma: Crimson incense. Essential Oils: Dragon's Blood Resin
Samhain Spell- Aroma: The scent of autumn- patchouli and dark forests with touches of spice and sweetness. Essential Oils: Patchouli, Clove, Nutmeg, Petitgrain, Balsam Fir, Sweet Orange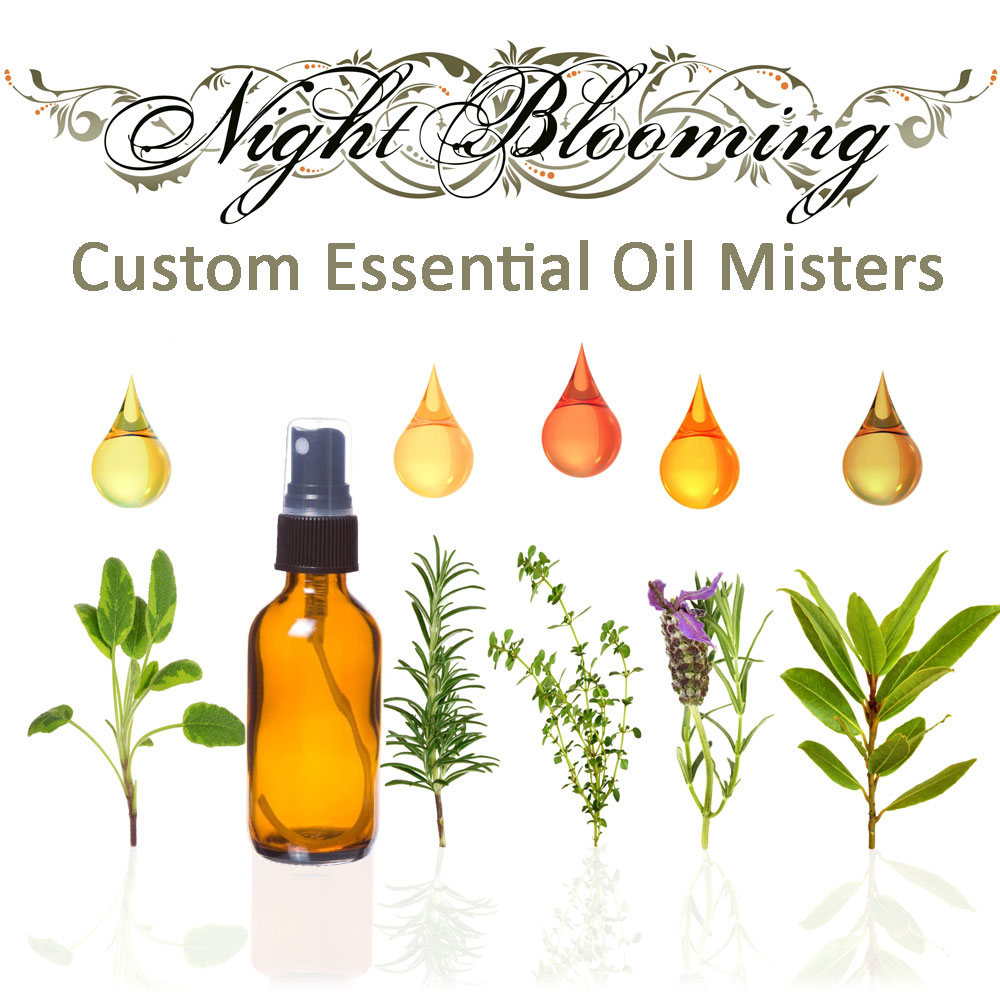 *********************************
Signature Oil Blends:
Want them as a soothing hair oil or massage oil? Check them all out here in both half ounce:
https://www.etsy.com/listing/250753117
And four ounce sizes!
https://www.etsy.com/listing/250752751