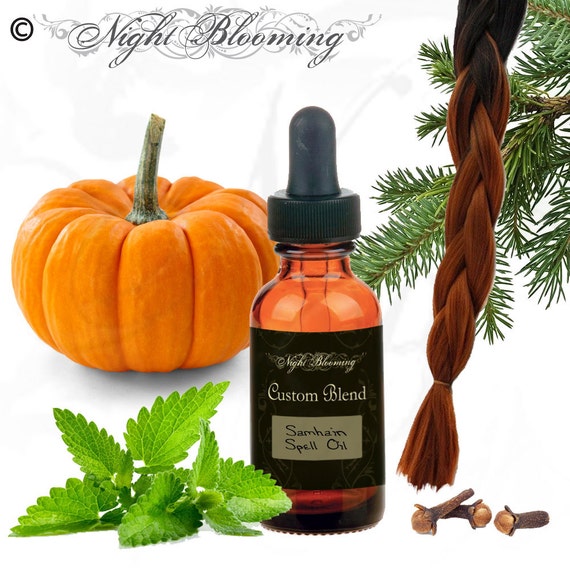 You can see all of the past featured oil blends of the month here!
Samhain, the night when the veil between the worlds is the thinnest, and magick strong. It is a celebration of death and of the dead, and it often involves paying respect to ancestors, family members, elders of the faith, friends, pets and other loved ones who have died. The spirits of the departed are invited to attend this festival of darkness and death.
This oil casts a spell unto itself, fitting for this time of year:
As this Samhain passes from us
soon the drawing will embrace us
and the sunset portal close.
Until the turning of the year
we part for just awhile.
Yet I know there is no ending
and the silver thread spins outward
to that place where you are going
until I travel there to meet you,
or your return upon the autumn,
on this sacred night of Spirits
when we shall meet again,
Blessed Be.
Samhain Spell Hair Oil: An oil full of essential fatty oils that help protect and lock moisture into the hair.
Base Oil: Pumpkin Seed Oil
Secondary Oils: Hemp Seed Oil, Walnut Oil
Essential Oils: Patchouli, Clove, Nutmeg, Petitgrain, Balsam Fir, Sweet Orange
Aroma: The scent of autumn- patchouli and dark forests with touches of spice and sweetness.
Application: Intended for use on the length of hair. Rub a few drops between your palms to warm and smooth over the ends.
Detailed Ingredients:
• Pumpkin Seed Oil- Pumpkin seeds contain fatty oils with linoleic acid and oleic acid, both known to prevent cancer-causing cell production. They are also an excellent source of vitamins A, B6 and C. In addition, the seeds contain beneficial nutrients like zinc, magnesium, calcium and iron. Perhaps most important to those suffering from hair loss, the seeds contain cucurbitin, a unique amino that may be responsible for pumpkin seeds' effects on hair growth. There is conjecture that when consumed internally pumpkin seed oil it is a DHT blocker and can aid in treating baldness or hair loss, though no clinical study has been done.
• Hemp seed Oil- Hemp seed oil is made up of 80% essential fatty acid, the highest amount of any other plant. Hemp seed oil prevents moisture loss on a physiological level; it does just not merely "coat" the skin or hair as do other oils. Hemp so closely matches our own skins lipids it is able to penetrate inside our cells and lubricate the surface between. Not only does Hemp seed oil contribute greatly to the barrier function and appearance it also has other skin benefits such as offering relief to acne, minor abrasions, psoriasis and eczema. Hemp is also the only plant oil containing Vitamin D, which is necessary for Calcium absorption, especially useful to vegans. Using Hemp seed oil is a great way to achieve soft, smooth and hydrated skin.
• Walnut Oil- A pale golden oil, it good moisturizing, anti-aging, regenerative, emollient and toning properties. Walnuts are unique among nuts because the essential fat they contain is primarily polyunsaturated (the source of omega-3 fatty acids.) as well as a host of other important vitamins and minerals. Walnut oil is a clear, grease-less, penetrating oil, that is a rich source of fatty acids.
• Patchoili Essential Oil- An Earthy, smoky, spicy, and musky oil, this is well known for it's role of perfumery, it is also a fungicide and cicatrisant, promoting fresh growth and healing.
• Clove Essential Oil- This warm and spicy oil aids in circulation and is recommended for skin care, especially to acne patients.
• Nutmeg Essential Oil- has a sweet, warm, spicy scent similar to the spice commonly used in cooking. Comforting and soothing, nutmeg helps boost energy. It also supports nervous and endocrine systems and prostaglandin balance.
• Petitgrain (Citrus aurantium) Essential Oil- Made from the leaves and twigs of this amazing tree, it is antiseptic, antispasmodic, a natural deodorant, and nervine. Use in a hair oil will leave hair and scalp fragrant (petitgrain has woody, citrus and floral notes all in one!), while soothing and preventing bacterial and fungal growth. Blends well with lavender, rose, and sandlawood.
• Balsam Fir Essential Oil- A balsamic, sweet, fresh aroma that is both grounding and elevating. It has anti-bacterial, anti-fungal, antiseptic, and stimulating properties.
• Sweet Orange Essential Oil- A zesty citrus, sweet, strong aroma, Sweet Orange is cheering, refreshing, uplifting, and comforting. Orange, like all citrus fruits, plays an important role in Chinese medicine.