Etsy has given NightBlooming the amazing opportunity to participate in Fund, a new and exciting crowd-funding way to give your customers new products, while making it possible for us to take the store to a higher level than ever before.
While there is a lot of information here, please head over to the actual Etsy Fund Campaign, Selkie Herbal Detangler: Filling a sea of bottles. We only have thirty days to make this happen, and early backers to get the campaign going are much appreciated!
Important Note for International Customers: I am so, so sorry that this isn't open to my beloved international customers :( It isn't an option I had. Etsy Fund currently doesn't support international shipping or purchasing, though it will eventually. If you would like to participate in Fund, all I can recommend is that you ask a friend in the US to donate on your behalf and ship the product to you. I cannot accept payments for Selkie towards the campaign directly, as then it doesn't count as contributing towards the campaign goal.
How can I help?
Please help by spreading the word. Getting enough backers is critical to our Fund campaign. Blog, Tweet, post to forums, and email your long-haired friends. The more backers Selkie has, the more of a chance this unique opportunity has of succeeding.
Shipping Included!
Please note that all the options for Selkie on the Fund campaign include shipping within the US :)
Selkie by the amazingly talented Selina Fenech. Image used with her permission.
What is a Selkie?
Selkies are mythological creatures in Scottish, Irish, and Faroese folklore. The live in the ocean as seals, but when they come ashore, can shed their seal skins and walk about in human form. Stories concerning selkies are generally romantic tragedies. Sometimes the human will not know that their lover is a selkie, and wakes to find them gone. In other stories the human will hide the selkie's skin, thus preventing the selkie from returning to its seal form. Selkies, male and female, are sometimes seen in human form upon shoreline rocks, combing their wave-tossed hair.
Introducing Selkie Detangler
Selkie Ingredients
Every ingredient in Selkie is vegan, hand-blended, and certified organic. So what's in it?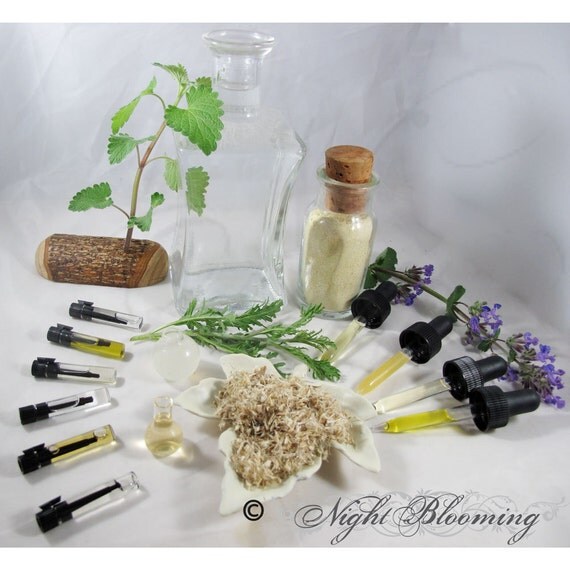 Distilled water– Ensures that Selkie has no mineral buildup and allows for a pH neutral start.


Marshmallow root, slippery elm & fenugreek seed herbal infusion– These three ingredients give Selkie its slip by virtue of their mucilaginous compounds. They also naturally soften hair, provide natural plant protein, add shine, and sooth an itchy or dry scalp.


Aloe vera gel– While well-known for its benefits to skin, this third mucilaginous ingredient provides deep moisturizing effects to the hair and scalp as well. In addition it helps restore pH levels and has both emollient and moisturizing properties, meaning that it smooths the cuticle and attracts and seals in moisture.


Apple cider vinegar– The mildly acidic nature of this helps balance pH of hair and also helps to remove buildup. ACV encourages the cuticle of the hair to lay closed, making hair shine and tangle less.


Argan Oil– Sometimes called "Miracle Oil," argan oil is extracted from kernels of Argan fruit by crushing. It is swiftly taking the place of other natural oils for hair protection and treatment. Argan oil contains tocopherols (vitamin E), phenols, carotenes, squalene, and fatty acids, making it both light and great for brittle hair.


Borage Oil– Sometimes known as starflower, borage grows wildly in many parts of the world. Borage oil is extracted from the seeds of the plant, and its essential ingredient has been found to be gamma linolenic acid, commonly known as GLA, which is an essential fatty acid that provides a replenishing effect on the skin and hair, and is able to restore moisture and elasticity where it had previously been lost.


Camelina Oil– Known as the "gold of pleasure" to Europeans not long ago. Rich in natural antioxidants, Omega-3 fatty acids, tocopherols, and high in vitamin E content, Camelina oil is truly under appreciated.


Vitamin E Oil– Our natural Vitamin E oil is obtained by vacuum distillation of vegetable fats derived from non-GMO soy sources. It prevents rancidity and it acts as an anti-oxidant. This particular Vitamin E oil has been verified and tested GMO-free from crop to finished material.


Catnip Essential Oil– A stimulant, catnip can increase blood flow to the scalp, encouraging growth. It's astringent properties help tighten muscles and skin, helping to reduce shedding in some cases. Catnip is also reputed to assist in reducing split ends.


Cedarwood Essential Oil– Excellent for both hair and skin care. It balances oily skin, soothes and helps to heal skin rashes, and reduces oil in hair and skin.


Lavender Essential Oil– Enhances hair growth by stimulating the scalp. The name "lavender" is derived from the Latin lavare, meaning, "to wash" and was known as one of the seven polyvalents (effective against many toxins).


Lime Essential Oil– A bright scent, lime is antiviral, astringent, and bactericidal. It is at once a cleansing and moisturizing oil, helping with dandruff and scalp buildup.


Petitgrain Essential Oil– Made from the leaves and twigs of this amazing tree, it is antiseptic, antispasmodic, a natural deodorant, and nervine. Use in a hair oil will leave hair and scalp fragrant (petitgrain has woody, citrus and floral notes all in one!), while soothing and preventing bacterial and fungal growth.


Sage Essential Oil– A scalp soother and astringent, the herb is of ancient repute, valued as a culinary and medicinal plant – called herba sacra, 'sacred herb', by the Romans.
What this means is I have to fill lots, and lots, and LOTS of bottles. This is where your help comes in!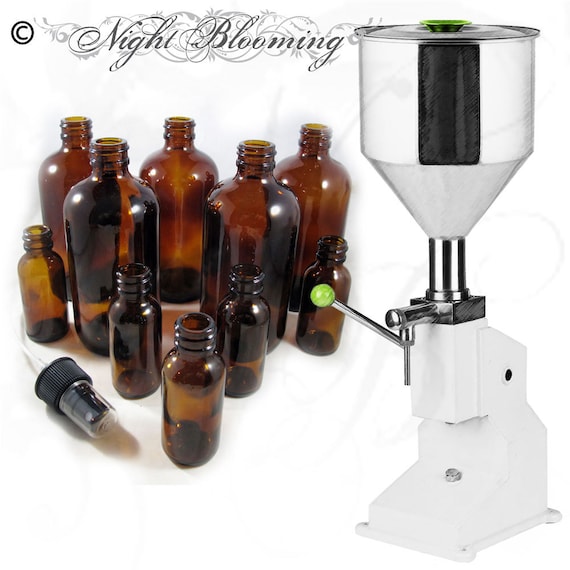 Part of the idea for naming Selkie after a sea-fairy was because, sometimes while filling bottles, my countertop winds up looking like the sea. Every single product NightBlooming offers is filled by hand, and in my determination never to skimp on product I sometimes overdo it. Using a top-heavy funnel is time-consuming and messy at best.
This machine would allow me to fill not only bottles of Selkie, but many of our other products as well: Triple Moon Oil, Panacea's Hair Salve, Ostara's Hair Salve, and Freya's Hair Salve. Its design is compact, efficient, and easy to use. All parts of the machine that come into contact with either the product or the bottle being filled are made of stainless steel and Polytetrafluoroethylene and meet food-grade standards. On average the machine can fill 40 bottles per minute, which would be a mind-blowing increase in efficiency and accuracy! (The fact that I wouldn't have to swab the countertops like a sailor on a ship would be a nice bonus, too.)
What if this really winds up rocking and we exceed our goal?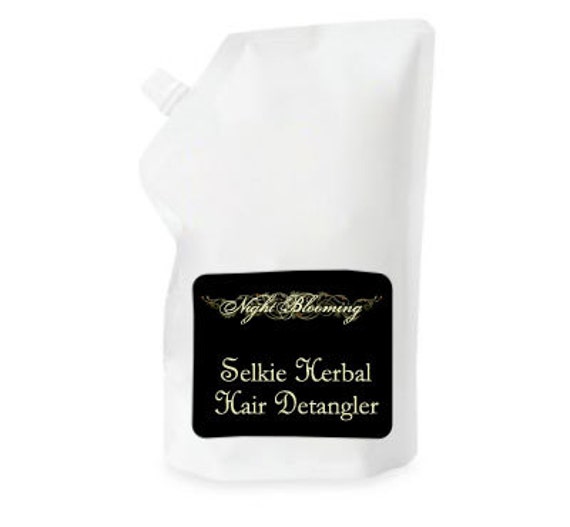 Selkie Herbal Hair Detangler comes in high-quality, reusable, and recyclable amber glass bottles. If we exceed our goal, the extra funds will go towards exploring adding spouted refill pouches as a way for us to not only get a lot of uses out of one bottle, but also reduce shipping costs for our customers who want more!
The blind kitten in your video, who is he? How is he doing?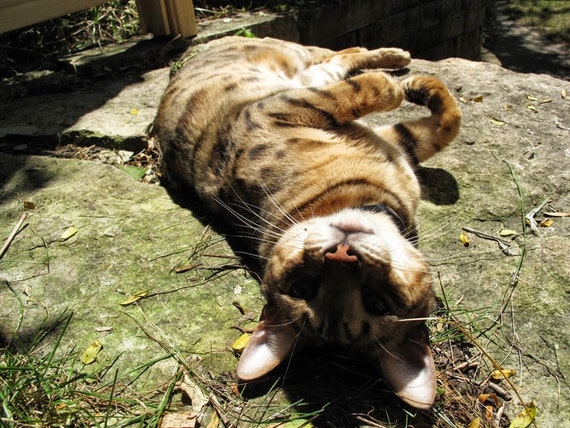 Tsavo is the official NightBlooming mascot (he's even listed on the store staff page along with our honey bees). You can read all about him, and his amazing journey from blind to being able to see on our blog. The short version, though, is that thanks to the kindhearted people of Etsy, he is now almost 7 years old and doing great!
Again, thank you so much, and see you over on our Selkie Campain page! Leave your comments below and help spread the word!