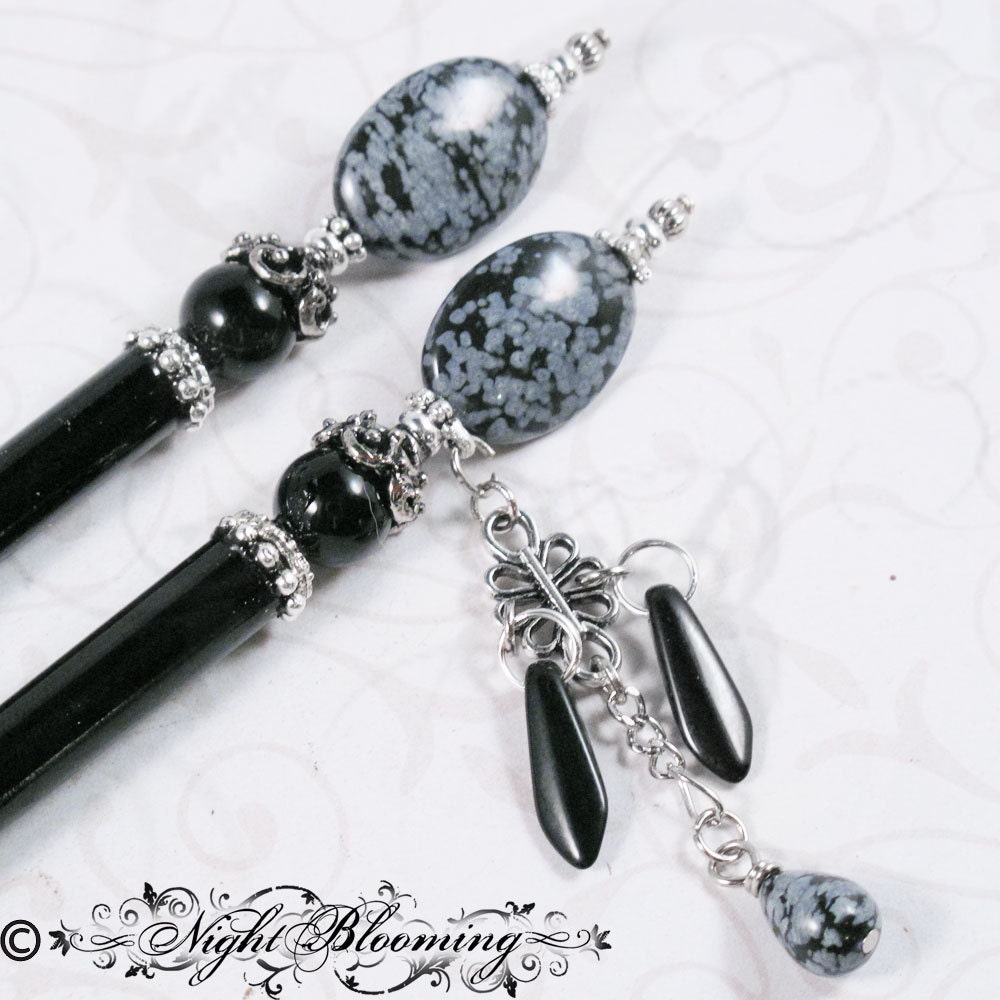 .•´¸.•*´¨) ¸.•*´¨)
(¸.•´ (¸

A knight-errant is a figure of medieval chivalric romance literature. "Errant," meaning wandering or roving, indicating how the knight-errant would typically wander the land in search of adventures. NightBlooming has a quest for those that would dare to take it. Though a challenge, the reward is great!

As NightBlooming's signature style is well known to our customers, we're offering up this sprig of mistletoe as a reward for the one who can unravel this riddle! The answer lies within one of my sold items, so the better you know NightBlooming's work, the easier this may be.

*******************************************

.•´¸.•*´¨) ¸.•*´¨)




(¸.•´ (¸

The Prize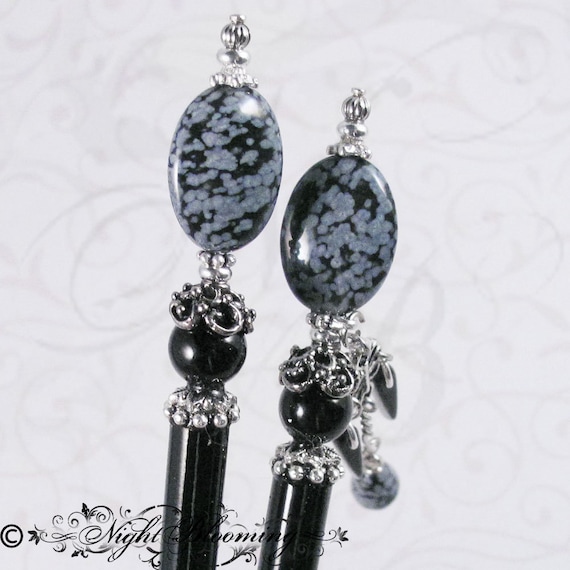 The lamp is burning low upon my table top the snow is softly falling
The air is still within the silence of my room I hear your voice softly calling
If I could only have you near to breathe a sigh or two
I would be happy just to hold the hands I love on this winter night with you
Sarah McLachlan - Song For A Winter's Night
Like looking up into the darkest of winter nights and watching the snow fall, these sticks seem to capture the tiny icy flakes within stone of the deepest black.
Built black lacquered wood, this pair is topped with silver pewter, snowflake obsidian gems and accented with black glass. From the neck of one stick dangles a silver snowflake, black glass and a droplet of snowflake obsidian.
Dark and dreamy, these stick almost look as silent as a midnight snowfall.
Song for a Winters Night Hair Sticks have an overall length of 7 inches, a usable length of 5 inches, and a dangle length of 2 inches.
The winner of this quest will be awarded The Song for a Winter's night sticks! We'll do another quest for the Spring Solstice! So even if you don't win please try again then :)
*******************************************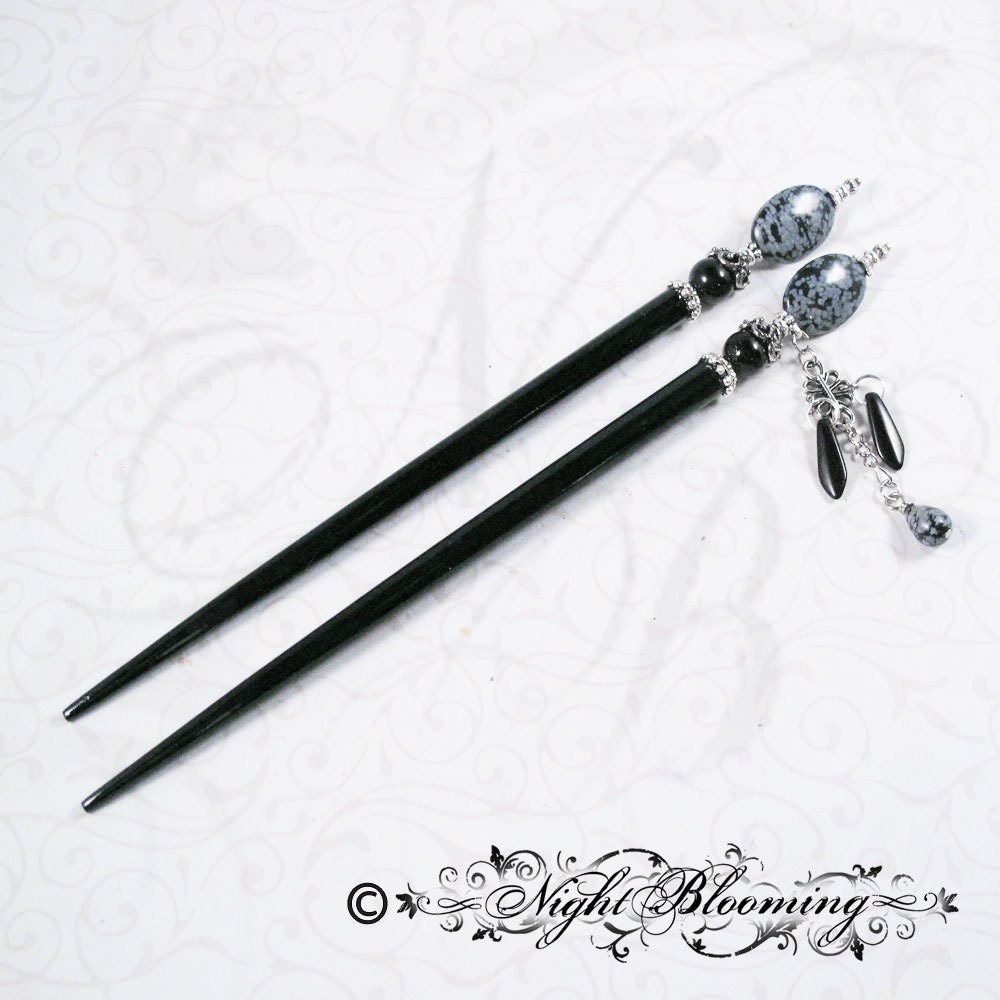 .•´¸.•*´¨) ¸.•*´¨)




(¸.•´ (¸

Rules:

Use the clue to find the right listing, then look in the item description or photos to answer the question. The contest will run for a bit more than a week (

closing at 12am on Saturday the 17th of December

), and a winner will be randomly drawn from all those that submitted the right answer. (We're running this a bit early in hopes that the stick might get to the Knight who discovers before the holidays!)

You are allowed only ONE GUESS (submitted by Etsy Convo or you can

email me

) and cannot amend your answer, so make your submission count! The winner will have the sticks shipped to them for free++ anywhere in the world!

Once the winner is announced they may check out with the sticks. Best of luck to you all!

You can see all the sold items here:

http://www.etsy.com/shop/NightBlooming/sold

*******************************************

.•´¸.•*´¨) ¸.•*´¨)




(¸.•´ (¸

The Quest Your Hint

:

The blood elves (known as the sin'dorei, which means "children of the blood") are a race composed of former high elves who renamed themselves in honor of their people whom fell in war. They deal in magic and traffic with demons, and while most are mages, a select few are demon hunters.

The Question

:

Praytell, What color is the blade of this hair sword?

*******************************************

++Free shipping is via First Class USPS. If you would like a different shipping method or insurance, a small charge will apply.